Dwell In Wonder
These lots are centrally located within 7R Ranch. They are wedge-shaped - with the narrow end fronting Canyon Lake Road and the wide end along the bluff overlooking the preserve.
Views along the bluff are spectacular, providing a commanding position in the middle of this large expanse of unspoiled nature. One can see the opposite ridge line from end to end, back up one of the canyons to it's origin along the far side of the preserve, a peaceful pond, and another bluff on the far eastern end with a boulder-strewn canyon in between. Beyond that is a vast expanse of mountains marching off to the horizon with Palo Pinto lake nestled in their midst.
The bluff itself features beautiful and exotic rock formations with small caves, sheer cliffs, flat picnic spots among massive boulders and endless textures, colors and forms among the spectacular scenery. There's even the beginnings of a handy trail for private access into the preserve.
The depth of the lot and abundance of trees provides total privacy from the rest of the ranch. This is one of the most prestigious location in the ranch, and perfect for a beautiful estate. Icarus Court runs through the middle of this point of land and provides an exclusive cul-de-sac location.
These lots are close to the Eagle's Nest Overlook and entrance to the Ranch's private nature preserve. It is a short drive to the clubhouse and pool, and will be convenient to the fitness center and restaurant when they are complete. This central location provides tremendous convenience, yet it is away from all the major activities to provide quiet and uninterrupted views.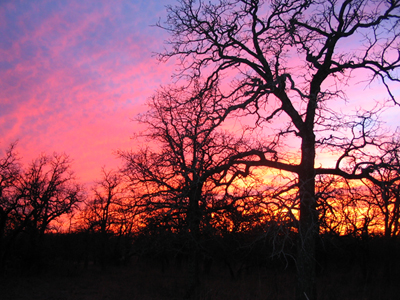 It is unusual in 7R to have a lot with such a wide expanse of bluff front, privacy, and enough acreage to keep horses. In most cases one would need to purchase multiple lots to achieve this much space and frontage overlooking the preserve. And those are in short supply.